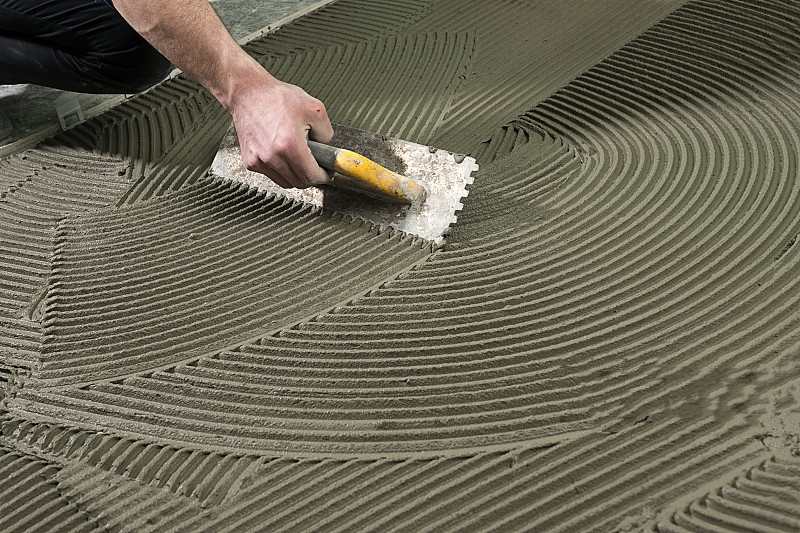 Tile Adhesives
Tile Adhesives are ideal for bonding of ceramic tiles, homogeneous tiles, porcelain tiles, glass tiles on concrete, wall renders, rigid wooden board, gypsum board, rigid tiled surface and floor screeds for interior applications. It offers excellent resistance to thermal movement deformation. These qualities are particularly beneficial for application on exposed areas. 
Tile adhesive, also known as tile sealer, is applied afterwards to fill in gaps and seal tiles by forming a fluid concrete. For best results apply with patience by working in small areas, ensuring the area is combed so the tiles have something to grip onto. Available in powder or ready mix variants which are suitable for interior or exterior tiles. Depending on the brand and formula, some are waterproof and mould resistant. 
How does tile adhesive work?
Applying tile adhesive with notched trowel provides full spread on back of tiles and will reduce many problems like broken tiles esp. on the corner, water seeping, and stain or efflorescent. Full contact of the adhesive on tiles' back and substrate provides strong bonding strength and long lasting tiling work.
How thick do you put on tile adhesive?
Thin bed adhesive should be 3mm thick when the tile is adhered. Thick Bed - Use a 10mm to 12mm notched trowel for surfaces that have a greater than 6mm variations over a 2m length or use the solid bed or buttering application. Thick bed adhesives should be between 3mm to 12mm thick when the tiles is adhered.
What is the composition of tile adhesive?
The invention provides a ceramic tile adhesive. The ceramic tile adhesive comprises the following components in parts by weight: 20-60 parts of Portland cement, 50-70 parts of quartz sand, 1.5-5.5 parts of re-dispersible polymer powder, 0.2-0.4 part of cellulose ether and 0.01-0.16 part of an alcohol compound.
Anxin cellulose ether products HPMC/MHEC can improve by the following advantages in tile adhesive :
·Improve workability without sticking trowel.
·Increase sag-resistance and wet-ability.
·Increase a longer open time.