Construction Grade HPMC Hydroxypropyl Methylcellulose
Product Detail
Product Tags
Hydroxypropyl Methylcellulose (HPMC) Construction Grade are widely used in Tile adhesives, dry mixed mortar, wall putty, Skim coat,joint filler, self-levelling , cement and gypsum based plaster etc.We can provide both non-modified grade and modified grade HPMC, which has long open time, good water retention, excellent workability and Good slipping resistance etc.
1. Chemical Specification
Specification

60AX

( 2910 )

65AX

( 2906 )

75AX

( 2208 )

Gel temperature (℃)

58-64

62-68

70-90

Methoxy (WT%)

28.0-30.0

27.0-30.0

19.0-24.0

Hydroxypropoxy (WT%)

7.0-12.0

4.0-7.5

4.0-12.0

Viscosity(cps, 2% Solution)

3, 5, 6, 15, 50, 100, 400,4000, 10000, 40000, 60000,100000,150000,200000
2. Product Grade:
Product Grade

Viscosity

(NDJ, mPa.s, 2%)

Viscosity

(Brookfield, mPa.s, 2%)

HPMC 75AX400

320-480

320-480

HPMC 75AX60000

48000-72000

24000-36000

HPMC 75AX100000

80000-120000

38000-55000

HPMC 75AX150000

120000-180000

55000-65000

HPMC 75AX200000

180000-240000

70000-80000
3. Application fields:
1)Tile Adhesives
•Better workability: lubricity and plasticity of plaster is ensured, mortar can be applied easier and quicker.
•Good water retention: prolonged opening time will make tiling more efficient.
•Improved adhesion and sliding resistance: especially for heavy tiles.
2)Dry mixed mortar
•Easy dry mix formula due to cold water solubility: lump formation can be easily avoided, ideal for heavy tiles.
•Good water retention: prevention of fluid loss to the substrates, the appropriate water content is kept in mixture which guarantees longer concreting time.
3)Cement/Gypsum based Plaster
•Increased water demand: increased open time, expanded spry area and more economical formulation.
•Easier spreading and improved sagging resistance due to improved consistency.
4)Wall putty/Skimcoat
•Water retention: maximized water content in slurry.
•Anti-sagging: when spreading a thicker coat corrugation can be avoided.
•Increased mortar yield: depending on the weight of the dry mixture and appropriate formulation ,HPMC can increase the mortar volume.
5)Exterior Insulation and Finish System ( EIFS )
•Improved adhesion.
•Good wetting ability for EPS board and substrate.
•Reduced air entrancement and water uptake.
6)Self-leveling
•Protection from water exudation and material sedimentation.
•No effect on slurry fluidity with low viscosity
HPMC, while its water retention characteristics improve the finish performance on the surface.
7)Crack Filler
·Better workability: proper thickness and plasticity.
·Water retention ensures prolonged work time.
·Sag resistance: improved mortar bonding ability.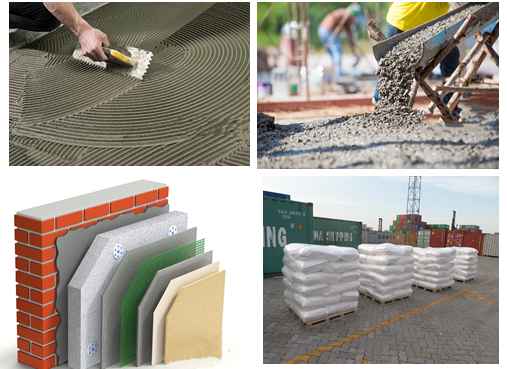 4.Packaging
The standard packing is 25kg/bag
20'FCL: 12 ton with palletized; 13.5 ton unpalletized.
40'FCL: 24 ton with palletized; 28 ton unpalletized.
Cangzhou Bohai New District Anxin Chemistry Co., Ltd. is a professional Construction Grade Hydroxypropyl Methylcellulose(HPMC) cellulose ether manufacturer in China, located in the Lingang Economic and Technological Development Zone Chemical Park,Cangzhou Bohai New District, a national level chemical park, close to Beijing,Tianjin and Shandong . 80KM distance to Tianjin seaport.
The production capacity is 27000 tons/year. The products are: Hydroxypropyl Methyl Cellulose (HPMC), Hydroxyethyl Methyl Cellulose (HEMC), Methyl Cellulose (MC), Hydroxyethyl Cellulose (HEC), Ethyl Cellulose (EC) etc.
---
---
Write your message here and send it to us